Lori Mann has been at the vanguard of glamour and boudoir photography for nearly two decades. You may know her as the original co-founder of Pink Kitty Studios, which she and her business partner started over 17 years ago in Los Angeles, and which coined the trademarked phrase "Photography by women, for women."
Her studio made headlines on national television in the early 2000's for what was at that time, a unique industry, bringing glamour photography to everyday women.
In 2008 Lori moved to the Philadelphia area and  has  been running her own studio as Lori Mann Photography on the East Coast ever since.
As a woman, Lori understands the daily challenges we all face with regards to appearance, and both she and her makeup artists know what it's like to be in front of the camera, including both the excitement and anxiety you might be feeling!
But never fear – Lori has been photographing women for a long time (more than 17 years) and knows how to use lighting, wardrobe, posing, and retouching to make you look your best.
Besides doing commission work for private individuals such as yourself, Lori has worked with many professional models including centerfolds. Her images have been published in numerous magazines as well as coffee table art books. She's also taught glamour photography courses and workshops all over the country, and people have flown in from as far as Europe to study with her.
Finally, this is all she does – no weddings or commercial photography or anything else. Lori focuses only on sensual portraits, has been doing it for a very long time, and has become quite expert. You'll love your pictures and will have a blast!
Aleksandra ("Aleks") Ambrozy is an award-winning professional makeup artist. With over 10 years of experience in print, television, runway and bridal makeup, her clients include celebrities, actors, models and sports figures.
Aleks has also been recognized as one of the top wedding industry vendors in the country. Her attention to detail and love for fashion and all things beautiful make her a great fit for boudoir photography.
When you arrive at the studio, she'll consult with you on your specific ideas for hair and makeup. She'll use lashes and airbrushing to achieve your desired natural or glamour look.
 Aleks has been working with Lori for ten years (and, yes, they are BFFs). She'll stay with you throughout the shoot for touch-ups and corrections, and to act as a second set of eyes to to watch for all the details that go into beautiful shots.
She'll probably also keep you endlessly entertained by teasing the hell out of Lori. 🙂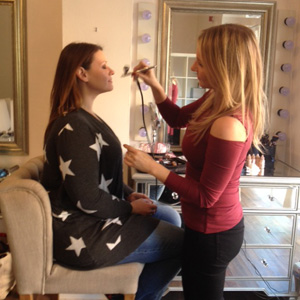 Lori has been honored over the years to have her work
covered by the following media:
The Today Show
Inside Edition
The Philadelphia Inquirer
9 On The Town
UPN
ABC News
Fox News L.A.
VH1's "I Love New York 2"
Philadelphia Magazine
Spark Magazine
The L. A. Daily News
WE tv's "The Secret Lives Of Women"
Hannity and Colmes
L.A.'s KROQ Kevin And Bean Morning Show
"Tattooed Girls Rock!" (coffee table book), published by Shami Publishing, 2009.
"Erotic Photographer of the Year 2009" annual competition book (coffee table book), published by The Erotic Review.
"Women by Women: Erotic Photography" (coffee table book), published by Prestel.
"2nd Annual Photography Masters Cup Yearbook 2008"
Marquis Magazine
Marquis Style Magazine
Bizarre Magazine
Libido Magazine
Be social! Hang out with us here:
Serving Delaware, Philadelphia, New Jersey, and Maryland.